Cherry Breeze Cocktail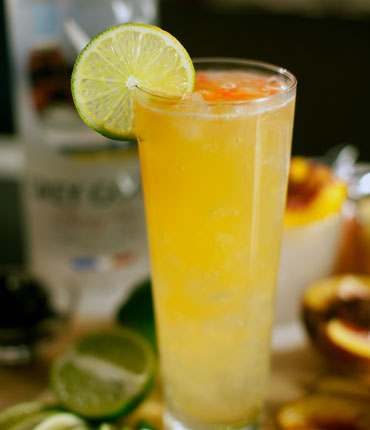 …..The weekend might be over, but that doesn't mean the drinking has to stop. This weeks Cocktail Of The Week is featuring Grey Goose Cherry Noir which we haven't been able to put down since we received a bottle. This one's pretty simple to make but does include a few more ingredients then you may be use to. This is a perfect afternoon sipper full of citrus and fruit flavor while having spice created from creole bitters.
Grey Goose Cherry Noir Breeze
1 1/2 oz Grey Goose Cherry
1/3 oz Benedictine liqueur
2 oz Fresh lime juice
2 oz Peach puree
1 1/2 oz Tonic
5 drops Bitter Truth creole bitters
Combine your first 4 ingredients in a shaker filled with ice. Shake well and strain into a chilled collins glass filled with crushed ice. Top with your tonic , stir and add in you creole bitters. Garnish with a lime wheel. 
*Like this article? Follow us on Twitter, Facebook, or StumbleUpon to get our latest cocktailrecipes, spirit reviews, and drink related news. For any questions, comments or concerns please email us at info@intoxicology.net*
---
---