Kentucky Derby & Cinco De Mayo Collide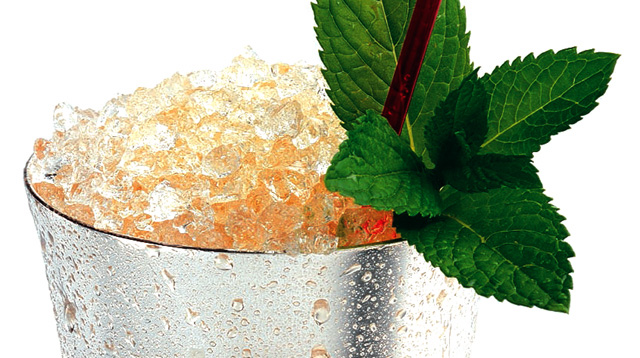 …..For those unaware, this weekend two of the counties biggest drinking holidays will collide. I'm talking about Cinco De Mayo and the 138th annual Kentucky Derby. Cinco is practically national margarita day and Kentucky Derby fans are no strangers to drinking either so I thought this would be a perfect time to introduce a few Cinco inspired Mint Julep interpretations as well as a Derby inspired margarita. A mint julep is traditionally made with four ingredients: mint lead, sugar, bourbon, and water.  The cocktail  itself is deeply rooted in the south and is the official drink of the Kentucky derby. The margarita needs no introduction. When we think of Cinco we think of tequila and margaritas. Enjoy these unique spins on a few classics.
Patron Julep
1 1/2 oz : Patrón Silver
3 1/4 oz : apple juice
12 : mint leaves
1/2 : freshly squeezed lime juice
lemonade
sprig of mint for garnish
Muddle mint in a collins glass with lime juice and apple juice. Fill glass with ice, add Patrón Silver, then top with lemonade and stir. Garnish with a fresh sprig of mint.
Cilantro Julep
2 oz : Patrón Añejo
1/2 oz : fresh lime juice
1 oz : pineapple juice
1/4 oz : amber agave nectar
8 cilantro leaves
pineapple wedge for garnish
In a mixing glass, muddle cilantro leaves. Add the rest of the ingredients, shake, and strain over fresh ice into a highball glass. Garnish with a pineapple wedge.
Fresh Mint Margaritas
1/2 cup chopped mint leaves
1/2 tsp. kosher salt
4 cups crushed ice
1 1/2 cups good-quality tequila
1 cup freshly squeezed lime juice (from about 8 limes)
1 cup Triple Sec
In the bottom of a large (2-quart) pitcher, crush together mint and salt, pressing with the back of a wooden spoon. Add ice. Add tequila, lime juice, and Triple Sec, stirring vigorously. Serve in short tumblers or wineglasses. Serves 4
Watermelon Agave Julep
2 oz : Patrón Silver
fresh watermelon chunks
5-6 : fresh mint leaves
1 tsp : vanilla infused sugar
mint sprig for garnish
Fill a mixing glass halfway with fresh watermelon chunks. Add 5-6 fresh mint leaves (broken up) and one heaped tsp vanilla-infused sugar. Muddle until puréed. Add crushed ice to top, and pour Patrón Silver. Stir and pour into a serving glass. Top with more ice. Garnish with a mint sprig.
---
---