Ginger Wonderland Cocktail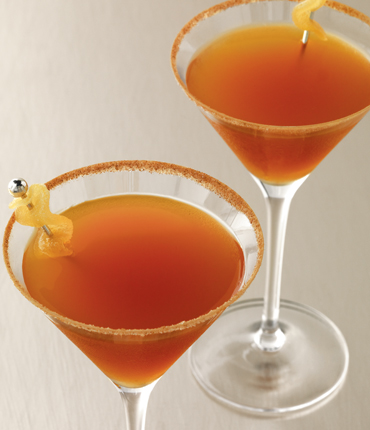 How's your holiday season going so far? Our tree is up, are lights are on, and we're ready to start attending Holiday parties. We've got invites to a Christmas party for the next 4 weeks! If you haven't yet figured out what you'll be sipping on at your next get together, here's a suggestion courtesy of our friends at Grey Goose. This weeks cocktail of the week is a sweetly spiced combination of Grey Goose La Poire Flavored Vodka, Disaronno, molasses apple cider and fresh citrus. Doesn't that just sound amazing? I'm a big seasonal drinker, and this one practically screams Fall or holiday season. Feel free to give it a try, possibly this Thanksgiving, and see if you don't feel as excited about it as we do. Cheers!
.
.
GINGER WONDERLAND
GREY GOOSE® La Poire 1 Parts
DISARONNO® Originale Liqueur Parts
Maple Syrup ½ tsp
Apple Cider 1 Part
Lemon Juice ½ Part
Pumpkin Pie Spice1 Pinch
Coat the outer lip of a martini cocktail glass in apple cider and roll in pumpkin pie spice. Set aside. In a cocktail shaker filled with ice, combine all ingredients. Shake vigorously, and strain into prepared martini cocktail glass. Present with crystallized ginger.
Follow us on Twitter, Facebook, or StumbleUpon to get our latest cocktail recipes, spirit reviews, and drink related news. For any questions, comments or concerns please email us at info@intoxicology.net*
Photo and recipe courtesy of Grey Goose Vodka. 
---
---