Ice Cream Infused Tequila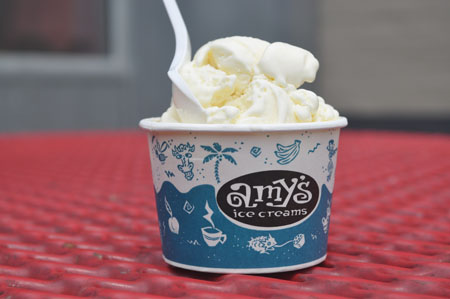 I'm a big fan of killing two birds with one stone, so when I recently found out that tequila makers Republic Tequila had teamed up with Austin, Texas based Ice Cream store Amy's Ice Creams to create three limited edition tequila infused flavors, I knew I had to share it. Considering tomorrow is National Tequila day, we figured this would be the perfect start to our unofficial tequila week. We recently received a sample of Republic Tequila (review coming soon) and to say its quality stuff would be an under statement. Not that I need any more reasons to ingest alcohol, but being able to cool off on a hot Summers day with a pint of ice cream infused with 100% Blue agave tequila would be  in my top 10 list of things to do before I croak. Ok, well maybe not top 10, but you get the point. It's not the first time Amy's ice cream has turned to a spirits company to get their ice cream some kick. Previously they worked with Texas-based vodka brand, Titos Vodka to make a white Russian inspired ice cream flavor. It was a success, so it was only natural they would turn to tequila next, one thing commonly associated with Texas.
…..Their three flavors include Tequila Jalapeno lime, Prickly Pear, and Pineapple Basil and are featuring Republic tequilas Anejo. Their choice of the Anejo was no coincidence, it's aged up to 20 months in Jack Daniels oak barrels which gives it hints of oak and vanilla flavors perfect for blending with sweet creamy ice. I don't know about you, but I'm getting hungry just typing all of this. With plans to attend this years Tales of the Cocktail this week, I'm almost tempted to keep it moving on I-10 and drive straight through New Orleans to Texas and give these flavors a try. If you're in the area, stop by one of Amy's Ice creams three locations ( Houston, Austin, San Antonio) and try a scoop. Cheers!
Photo courtesy of Austin360.com
Like this article? Follow us on Twitter, Facebook, or StumbleUpon to get our latest cocktail recipes, spirit reviews, and drink related news. For any questions, comments or concerns please email us at info@intoxicology.net*
---
---