Review: Menage a Trois Citrus Vodka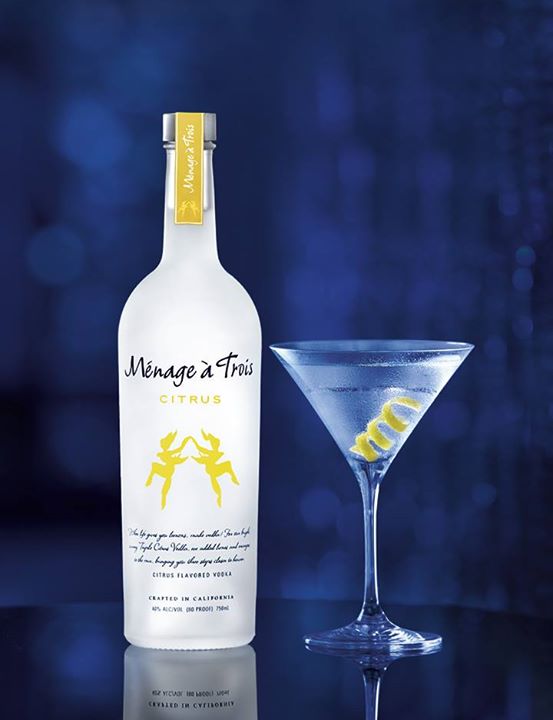 We've all heard the term Menage a Trois before. In French it literally means house of three, but more notably its used to describe three adults getting down and dirty, no judgement over here. With sex and alcohol being so closely tied together, it makes sense that a company would use the term for its brand.
"At Ménage à Trois, our love affair with the grape runs deep, but we can't help but play the field! After 15 years devoted to making premium California wines, we're having a new romance with vodka. This is no fleeting affair, but a real commitment to crafting luxurious, fun-loving vodkas made from all-American grains"
Menage a Trois jumps in feet first with three expressions of vodka: an original, a berry and a citrus. Those are pretty much THEE standard three if you're looking to get your feet wet, so if it's any good they'll add 10 new flavors by June. Each expression is distilled six times, and uses pristine California mountain spring water to bring the high-proof vodka down to 80 proof. For the health conscious consumers, you'll want to add this one to your list because it also happens to be gluten-free. We cracked open the Citrus this weekend and have it for our review.
First Impression: I love the bottle. At first glance you see two people holding hands looking happy and excited, but then your imagination kicks in and you assume with the name of the brand, these can only be two lovers happy to be searching for the a third partner to have some fun with. Or maybe that's just what I see…
Aroma: If you're not a fan of the smell of alcohol this one might be perfect for you. The overly strong citrus notes almost completely cover up the aroma of alcohol.
Tasting Notes: You can't really mess up a citrus vodka, but I've seen brands try. Menage a Trois doesn't out think themselves here but they did manage to play up the threesome gimmick nicely. Their citrus flavor comes from three fruits and you get a distinct taste of each with every sip. Lemon, orange, and lime. It's very sweet, and the citrus is strong, but that's exactly what I'm looking for in a citrus vodka. The lemon is most dominant, followed by the orange, with a slight bit of lime that's mostly noticeable in the lingering taste in your mouth. It's the perfect combination of tart for me.
Final Word: Cheap, Tasty, and a conversation piece. I'll be recommending this vodka to most of my friends for those three reasons. It actually makes a decent martini, but more importantly its great in mixed drinks. It's perfectly priced at 16 bucks, and to be honest if you're mixing it with 3 or more ingredients you'd be a fool to spend more than 20 anyway. This is a good choice for the budget buyer looking to get a good taste and not have a hangover the next day.
Cheers
Disclaimer: Sample of Menage a Trois Vodka, and photo above provided courtesy of the brand. 
---
---