Review: Republic Reposado Tequila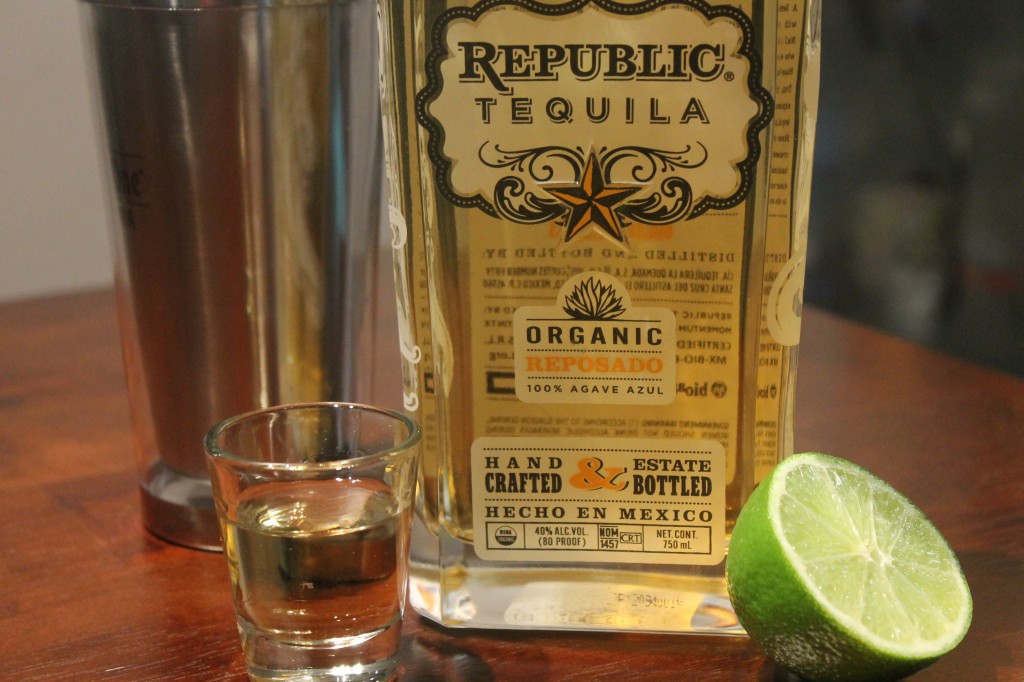 …..We're celebrating tequila all week because yesterday's nationally recognized tequila day wasn't enough. They say everything in Texas is bigger and better, so what if I told you there was a company producing an ultra-premium tequila that would make you second guess some of the other stuff you were dropping coin on every week. You would probably look at me crazy and point out the fact that by law, tequila  must be made in Mexico from blue agave plants in the state of Jalisco, and a few surrounding counties in order to be called tequila. Don't worry, it passes the test. In this case, this Texas tequila is made in Mexico, but the company itself is based in Austin. If the laws every change and there was a place you would expect good tequila to come from besides Mexico, I think Texas would be next on the list.
Republic Tequila is produced at Agave Conquista distillery, a premier organic, kosher, and completely green eco-friendly distillery in the town of Tequila in Jalisco Mexico. It's distilled twice (marketing has distorted the consumers view of how important "times distilled" is), and then allowed to rest for 3-5 days before being aged for 8 months in Jack Daniel's barrels, allowing the tequila to take on more complex characteristics of the oak, while still keeping the sweet properties of the agave plant. This provides a very sip-able tequila that tastes great on its own. Oh and as an added bonus, did we mentioned it was %100 organic? But enough of that, let's see how it measures up. 
First Impression: Republic tequila offers two different packages for each of its styles of tequila, a traditional bottle unique in its own right, and a truly awesome Texas shaped bottle that pays tribute to the "lone star" state and at the same time would be a nice collectors piece for booze nerds like myself. (Note: fancy shaped tequila bottles are becoming very trendy right now, but are almost over the top in many cases. This one though, is perfectly fitting) We received the standard bottle, but won't hold it against them because it's what's inside that puts a smile on our face! With the standard, thick glass, raised etching, fitting graphics, and a brief company history make this a nice package as well. The tequila itself is light-colored and more of a pale yellow. The real story here is the aroma. If blindfolded, I would swear this were a cognac or a sweet bourbon like a Makers Mark, not surprising knowing it's aged in Jack Daniels barrels. With that sweetness, are also subtle hints of agave, just enough to remind you this is a tequila. 
Aroma/Taste: This is where it counts. We sipped it, we shot it chilled, and we poured it into a few favorite mixed drinks. This one was a winner on all accounts. When not mixed, you can really taste the complexities of the tequila. Strong notes of caramel, hints of vanilla, agave obviously, and even bits of pepper and orange. All flavors balance perfectly. If you're still having nightmares about that tequila you guzzled in college that left you with the worst hangover the next morning, this is a perfect "redemption tequila". No harshness, after bite, or worries the next day. Try it as a cold shot and you'll really appreciate the sweetness. 
Price:  $45 (750/ml)
Grade: A 
Overall: There's not much else to say. We LOVE this tequila. For the price, this is one of the best premium tequilas we've had and we can't stress that enough. If you like paying more for less impressive tequilas, then stay away from this one, but if you're looking to taste a tequila to finally make you understand why it's such a big deal in Mexico (Many of the tequilas you find in the U.S. do not compare to some that don't make it past the border), than this is the one. Below are a few recipes provided courtesy of Republic tequila for you to try at home. 
Mexican Macchiato
1.5 oz Republic Reposado

2 oz organic coffee

½ oz organic agave nectar

2 oz organic whipping cream (whipped to a medium consistency)

Organic cinnamon to grate 
In a mixing glass add coffee, agave nectar, tequila and a few grates of cinnamon; top with ice, cover and shake for 10 seconds. Strain into a martini glass. Pour freshly whipped cream over the back of a spoon to create a layer on top of the drink and dust with a couple more grates of cinnamon. 
Republic Rancho Ancho
1.5 oz Republic Plata Tequila

1 cup cubed seedless organic watermelon

½ oz organic agave nectar

½ oz fresh squeezed lime juice

3 pinches of ancho chili powder
Add the watermelon and chili powder to a pint glass and muddle into juice. Add the lime, tequila and agave nectar and top with ice. Cover and shake well. Strain over fresh ice in a pint glass and garnish with a slice of lime and a pinch of chili powder. 
Republic Tequila sample for review courtesy Republic Tequila representatives. For more information, visit their website or find Republic Tequila on Facebook or follow Republic Tequila on Twitter.
Check out our Guest Blog at JLee's Blog featuring a couple tasty Sangria recipes for you to try. Don't forget to follow us on Twitter, Facebook, or StumbleUpon to get our latest cocktail recipes, spirit reviews, and drink related news. For any questions, comments or concerns please email us at info@intoxicology.net*
---
---