Tap 357 Maple Rye Whisky Review: Liquor Pancakes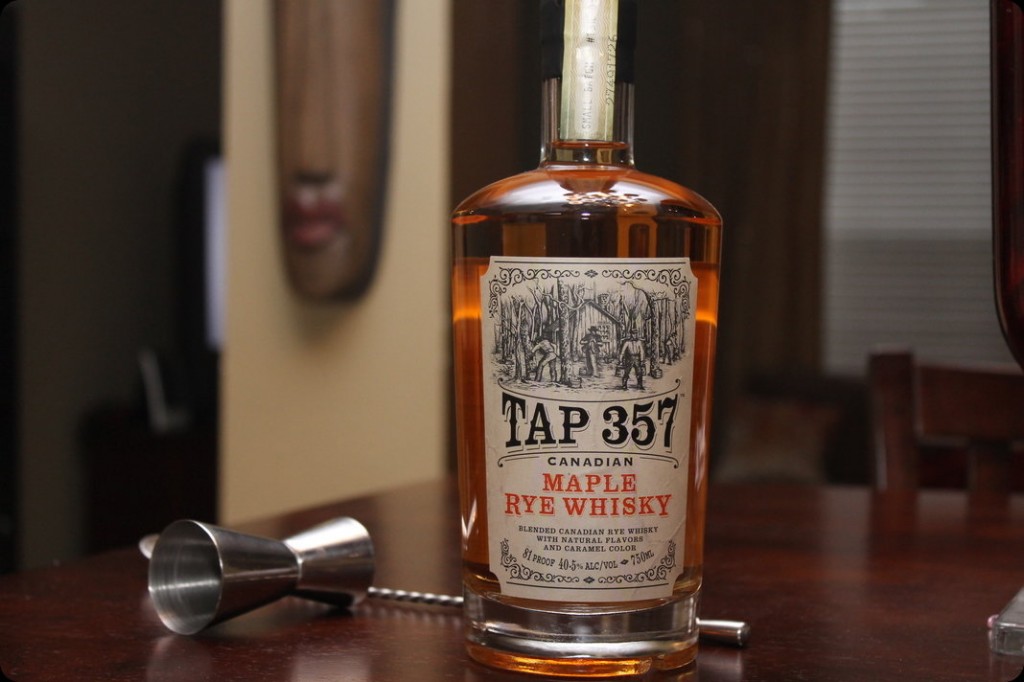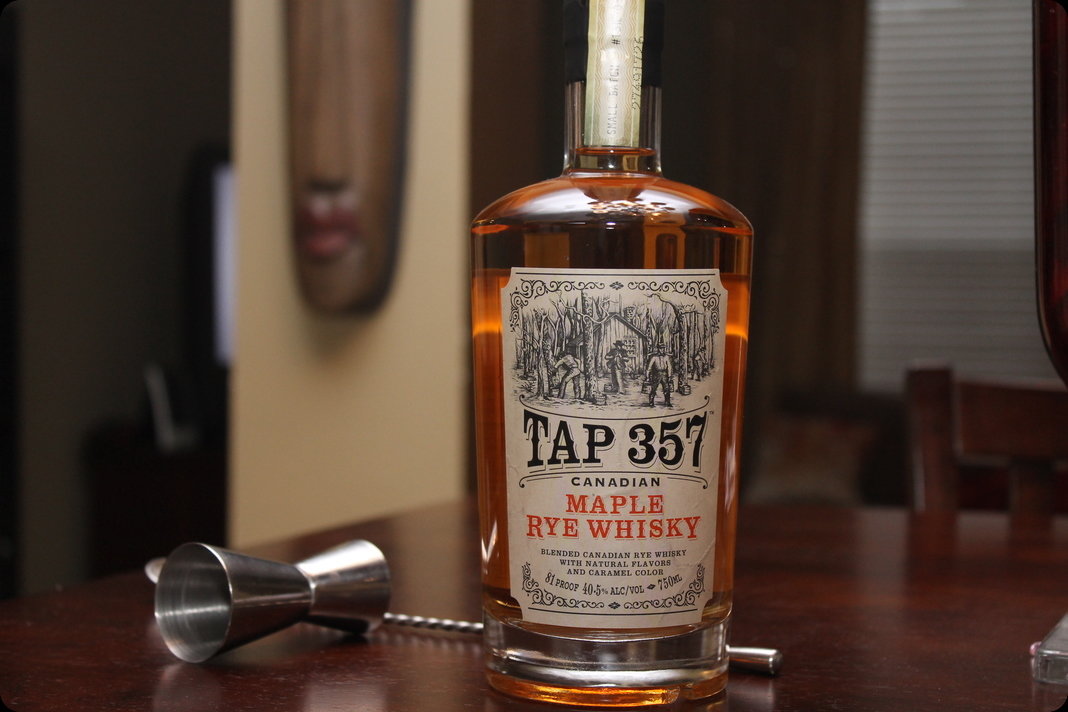 I'll admit, I'm a sucker for a well marketed or gimmicky brand of anything, especially when it comes to alcohol. So when I originally aw the advertisements for Crown Royal Maple Whisky I pretty much mentally crowned it champion of its kind before even tasting it. The results, underwhelming, but still a good sip-able whisky that bordered on becoming a liqueur because of its sweet intensity. Then a few weeks back  I was surfing on Caskers.com, an awesome site that creates a platform for customers to find and buy some of the finest craft spirits available, and heard about Tap 357 Canadian Maple Rye Whisky. I salivated a bit I wont lie, but resisted the urge to order one. They're sold out now, but fortunately a representative of the brand reached out to us and allowed us the chance to taste and share our experience with you.
Tap 357 is the result of taking two things that are synonymous with Canada, and fusing them together to create bottle of awesome. So how do they bottle awesome exactly? Well you start distilling your expertly selected blended whiskies four times before maturing them in a combination of new and used bourbon barrels at one of Canada's oldest distilleries. You then combine them with pure maple syrup, Canada 1 Light to be exact and finish off the process by leaving the whisky to rest for additional time until deemed ready for consumption. If you were wondering where the name 357 comes from, no they didn't just throw it on the end like your buddy did his twitter name. Tap is crafted from cask aged 3,5, and 7-year-old blended rye whiskies. Thirsty yet?
First Impression: Standard "small batch" bottle with artwork and labeling that puts a nice touch on the image their brand wants to convey. We popped the cork and what a perfectly satisfying aroma. Easily identifiable maple aroma that's still subtle enough that it doesn't overwhelm your nostrils. This right off bat is a one-up on commercially marketed competitor, crown royal maple. The first impression is this is a maple flavored whiskey, and not whiskey infused maple syrup.
Tasting Notes: Here's where the party begins. We poured a few warm glasses to really let the flavors and aromas reach potential. It's got a beautiful light amber color by the way, and we're visual drinkers, so you know by then we were pretty anxious to take a sip, or two, or three. It's got a slightly sweet maple beginning followed by a spicy finish brought on from the rye. Just the right amount of maple influence in my opinion.Canadian whiskies are typically easier on the finish by rye whiskies tend to be the opposite.  The maple works perfectly to soften the intensity of the whisky bite. Add in some subtle notes of honey and a smokey finish and you've got yourself a well crafted whisky that is good enough to remind me of Sunday morning pancakes, with out completely tasting like it.
Price: $29.99 (750ML)
Final Notes: Nothing much to say here that we haven't already made clear. This was one of our favorite spirits in recent time to review. Great taste from start to finish and a lovely aroma that sets the mood. Drink it near, on the rocks, or use it with some of your other favorite mixers/ingredients and see where it takes you. At 81 proof, its got just bite to match its bark. It's deceptively smooth so just known you've been warned now. For more information on Tap357 including where it can be purchased, visit their them at www.TapWhisky.com. In the meantime check out below for a few recipes to try with it. That's all for now, Cheers.
The Montreal
2½ oz. TAP 357
¾ oz. sweet vermouth
3 dashes Angostura Bitters
Stir ingredients well with ice and strain into a chilled cocktail glass.
Golden Apple
1½ oz. TAP 357
1oz. apple cider
½ tsp. maple syrup
3 dashes Angostura Bitters
Lucid Absinthe rinse
Shake the first four ingredients very well with ice. Strain into a chilled cocktail glass that has been rinsed with Lucid Absinthe. 

---
---