How to Drink at the Kentucky Derby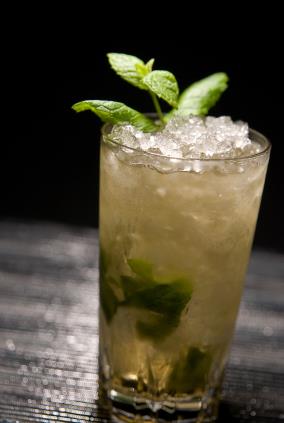 It's that time of year again. The gaudy hats, the seersucker's and sundresses, and who could forget the endless amounts of bourbon waterfalls. It's the Kentucky Derby of course and we're keeping you covered with our guide today on how to drink for the Kentucky Derby. Everyone knows at the Derby the Julep is king, but don't be fooled into thinking that's all you can/should be sipping on. We've never been the biggest of fans of the Julep, at least not the classic recipe. We've found several fun variations that we've tinkered with over time and hopefully you'll like them too. Bourbon, Rum, Vodka, Minty, sweet, we've got a bit of everything so if you don't see something you like here today, be sure to check back during the week.
WoodFord Reserve Sweet Tea
1 part Woodford Reserve
1 part Pepsi
1 part sweet and sour mix
1 part Triple Sec
Mix all together and serve over ice with lemon wheel garnish.
Extra Spicy Bloody Mary
1 46 oz. can tomato juice
1 cup Grey Goose Vodka
1/2 cup lemon juice
4-6 drops Tabasco
1 teaspoon celery salt
1 teaspoon celery seeds optional
Combine all, chill covered in large pitcher for 24 hours. Serve over ice. Garnish with celery sticks, asparagus spears, green onion, etc.
Watermelon Julep
1 1/4 oz. Bourbon
1/2 oz. simple syrup
5-6 mint leaves
5-6 squares of fresh watermelon
Crushed ice
 Muddle simple syrup and watermelon in a mixing glass. Add mint and press lightly to release oils. Add your bourbon and mix well with cracked ice. Strain over crushed ice. Garnish with watermelon and smacked fresh mint.
For more great recipes, follow us on Twitter, Facebook, or StumbleUpon to get our latest cocktail recipes, spirit reviews, and drink related news. For any questions, comments or concerns please email us at info@intoxicology.net
---
---