Coming Soon: Bacardi Pineapple Fusion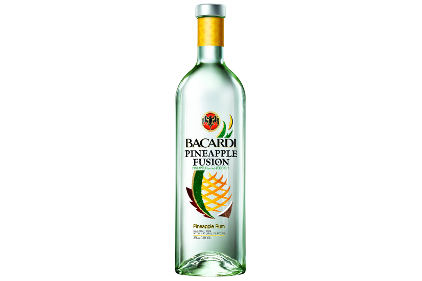 Some of you may have caught it during the NBA All-Star break back in February, but in case you missed it, Bacardi recently launched the newest member of it's portfolio: Pineapple Fusion. It's a one of a kind rum that fuses the sweet flavor of pineapple for the toasted touch of coconut rum. It's practically a beach classic already right?
Pineapple Fusion is a one of a kind product that fuses the sweet notes of pineapple rum with the toasted flavors of coconut rum. With this new flavor, BACARDI® delivers an unforgettable taste experience, fusing the attitude and energy of the Caribbean to keep the party going all night long. After all, BACARDI® has more than 150 years of experience mastering the craft of rum-making and starting great parties. If you haven't heard the buzz on it yet, let this be a prelude for you. In addition you can catch the "Highlight mix presented by Bacardi Pineapple Fusion" during "Inside the NBA" on TNT every week from April 11th until May 16th.It will come in standard sizes and retail at a price of around $14.99 for a 750 ML bottle. Check out a few awesome recipes below courtesy of Bacardi for you to pre-game with and plan your next tailgate or beach trip with. Let us know what you think.
BACARDI® Pineapple Fusion Cocktails:
Pineapple Fused: 
1 part BACARDI® Pineapple Fusion™ Flavored Rum
3 parts pineapple juice
Pour ingredients over ice in a tall glass. Garnish with a pineapple wedge
Pineapple Arnold Palmer : 
1 part BACARDI® Pineapple Fusion™ Flavored Rum
2 parts lemonade
2 parts iced tea
Garnish with a pineapple wedge
Fans can visit www.nba.com/bacardihighlightmix to check out the latest mix and create their own highlight reel with tunes mixed by DJ Irie. For more information on Bacardi or Pineapple Fusion, visit their website at www.Bacardi.com