Introducing Smirnoff Wild Honey and Cinna-Sugar Twist Flavored Vodkas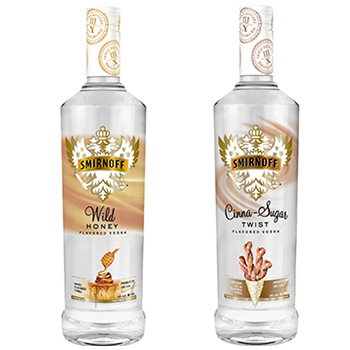 We're at that point in the year where brands are popping out new seasonal flavors perfect for soothing your holiday sweet tooth. Smirnoff is no exception, and has launched two new flavored vodkas perfect for fall drinking. They're introducing Smirnoff Wild Honey and Smirnoff Cinna-sugar. If you're into dessert cocktails, holiday cocktails, or just in general like the sweet stuff, these will probably be on your wish list.
"Honey is a huge flavor in the spirits industry right now, and SMIRNOFF's aim was to deliver a liquid that embodies the sweet, smooth flavor like never before – the fruity notes really add an interesting twist. Cinnamon is another flavor bringing heat – literally and figuratively – to the spirits industry. Cinna-Sugar Twist embodies the taste of a fresh pastry that's sprinkled with the bite of cinnamon," said Dan Kleinman, Brand Director of SMIRNOFF. "The unique flavor combinations of both of these products pair well with an array of hot and cold cocktails, making the duo a must-have for at-home bars or to enjoy when out with friends. These adult treats will be a welcomed addition to the lineup of responsible celebrations that come with every holiday season."
We look forward to working with the brand in the near future to bring our readers some fun cocktails to try. Until then, Cheers!
---
---