Frangelico Truffle Released Just for the Holidays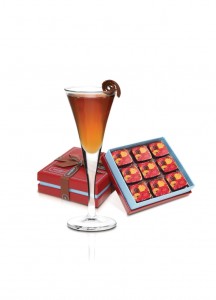 The Holiday season is officially here and in full swing and that means artisanal sweets will be on the rise. This year, celebrity chocolatier MarieBelle, in conjunction with premium hazelnut liqueur, Frangelico,  are releasing and indulgent Frangelico Ganache truffle. Hazelnut and chocolate go together as well as red and green during the holidays so this one is sure to be a hit. On November 15th, consumers will be able to try the decadent sweet (a perfect combination of Hazelnut Liqueur, rich dark chocolate and notes of vanilla, coffee and almond) at MarieBelle chocolate boutique in New York, visiting them online at www.mariebelle.com, or visiting select premium department stores nation wide. The Frangelico truffles, the perfect stocking stuffer or holiday gift, will be available in 4 piece, 9 piece, 16 piece and 25 piece gift boxes, with prices starting at $15.00.
In addition to their truffle, leading U.S, Mixologist James Moreland has created the perfect complementary cocktail to sip while enjoying your truffle. The Frangelico Truffle cocktail, which is surprisingly light and smooth with the rich taste of hazelnuts, sourced from the Piedmont region of Italy. At only 159 calories per cocktail, this recipe is the perfect way to take pleasure in the sweet delights of the holidays without overindulging.
For more information visit www.Frangelico.com
---
---